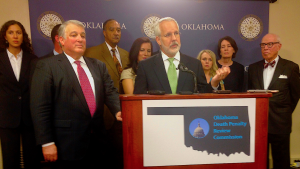 by Patrick B. McGuigan, The City Sentinel editor
OKLAHOMA CITY, April 25, 2017 – The Oklahoma Death Penalty Review Commission issued a unanimous recommendation that the state extend the moratorium on the death penalty which has been in place for more than two years.
In a state Capitol press conference, former Governor Brad Henry, commission co-chair, told reporters,
"The Commission did not come to this decision lightly. Due to the volume and seriousness of the flaws in Oklahoma's capital punishment system, Commission members recommend that the moratorium on executions be extended until significant reforms are accomplished."
Concerning the group's final report, Henry said, "Many of the findings of the Commission's year-long investigation were disturbing and led members to question whether the death penalty can be administered in a way that ensures no innocent person is put to death."
The report is 300 pages long. Copies can be downloaded at okdeathpenaltyreview.org. Joining Henry at the Capitol briefing was the commission co-chairman Andy Lester of the Spencer Fane law firm, a well-known Republican in the Sooner State.
Judge Reta Strubhar, a retired member of the state Court of Criminal Appeals, could not attend release, but said in a letter read on her behalf:
"I am proud the commission included Republicans, Democrats, Independents, prosecutors and defense attorneys who represent all viewpoints of the death penalty. With endless hours of discussion based on solid and comprehensive research, I am most proud that all the commissioners unanimously agree on the main recommendation that the current moratorium on executions should be extended until significant reforms are made."
Lester's points were similar to those of Gov. Henry and Judge Strubhar. He pointed to the bipartisan nature of the commission, praising the work of members and of The Constitution Project, a national organization that sponsored the review and provided staff support.
The other commissioner who speaking to reporters in the packed Capitol press room was Christy Sheppard, who lost a family member to murder.
"Our hope is for this report to foster an informed discussion among all Oklahomans about whether the death penalty can be implemented in a way that eliminates the unacceptable risk of executing the innocent, as well as the unacceptable risks of inconsistent, discriminatory and inhumane application of the death penalty," said Gov. Henry.
The commission included five women and six men from urban and rural areas of the state. Prosecutors and defense lawyers, law professors and law school deans, victim advocates and Native American representatives also worked on the report.
The commission report includes 46 recommendations touching a broad range of issues, including forensics, innocence protection, the roles of both prosecution and defense, juries, the judiciary, standards for determining eligibility for capital punishment, clemency and the execution process itself.
The death penalty review group formed after the state put in place a moratorium on executions in wake of botched processes.
A press release handed to reporters said The Constitution Project (TCP) "assisted the Commission's work with staff and researchers. TCP is a Washington, D.C., bipartisan, nonprofit that fosters consensus-based solutions to the most difficult constitutional challenges of our time."
Tags: Capitol Punishment, executions, moratorium, Oklahoma City Sentinel Newspaper, Oklahoma Death Penalty Review Commission, The Constitution Project