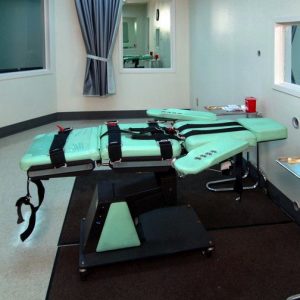 by Graham Lee Brewer, The Oklahoman,  March 30, 2016
Backed by a national research group, a newly formed commission of former elected officials, prosecutors, judges, public defenders and advocates will study the constitutionality of Oklahoma's death penalty over the next year.
The study, performed by the Oklahoma Death Penalty Review Commission, will be the first time an independent study of the state's death penalty has been conducted.
"I don't like to talk about it. I don't like to think about it, but it's something we as a civil society need to do," said former Gov. Brad Henry. "We need to do this in-depth review from top to bottom and figure out what's working and what's not."
"I've had to sign on the line, and it's not an easy thing to do," said Henry, who both approved executions and granted clemency to death row inmates during his tenure as governor.
"These are life and death consequences, and it needs to be done right."
Henry will co-chair the commission with Reta Strubhar, a former Oklahoma Court of Criminal Appeals judge, and Andy Lester, a former U.S. Magistrate Judge for the Western District of Oklahoma.
"I don't know whether this group of people will come to an agreement about the death penalty and whether we should have it or not," Lester said, "but what we can do is hopefully provide some guidance to whether Oklahoma's process is being handled in a constitutionally proper way."
Lester said the commission wants to look at every aspect of the death penalty process in Oklahoma, from the arrest to execution, and review the fairness of the system as a whole.
"These are people on all sides of the issue who are really interested in doing what's best for Oklahoma."
Laws scrutinized
Many states are grappling with questions surrounding the death penalty, said Virginia Sloan, president of the Constitution Project, the Washington D.C.-based bipartisan research nonprofit that is funding the commission.
"Oklahoma was just one of them, and I had a conversation with Brad Henry and he thought it was a really good thing and was pleased to see a way that Oklahoma might lead the country and other states in trying to come up with a bipartisan recommendation on their death penalty system," Sloan said.
Sloan said her organization will conduct research based on what the commission wants to study.
The Constitution Project will facilitate the study through legal research, as well as by sending researchers to Oklahoma.
While the organization has conducted similar bipartisan commissions on the national level, it will be its first commission on a state level.
"This is a really amazing group of people from both sides of the aisle and they come at this with various perspectives and have various expertise in the criminal justice and death penalty systems," she said. "It's going to be a fascinating experience."
The announcement of the study comes at a time when Oklahoma's death penalty is at a cross roads.
Moratorium
A statewide moratorium on the death penalty was put in place in October after a series of mishandled and problematic executions over the last two years.
A multicounty grand jury will meet again this week to continue its look into a drug mix-up that halted the Sept. 30 lethal injection of Richard Glossip.
The warden of the Oklahoma State Penitentiary, the director of the Oklahoma Department of Corrections, and Gov. Mary Fallin's general counsel have all resigned in the wake of the grand jury investigation.
"It seems to me that we're at a critical phase in Oklahoma," said Mark Henricksen, an Oklahoma City attorney who represents death row inmates, including Glossip. "We're in a huge budget hole, and I can be sure they're not sending more funds to make sure people get fair cases."
Review welcomed
Henricksen welcomes a closer look at the constitutionality of the state's capital punishment system, noting what he sees as inadequate funding for free public defenders, racial disparities in death penalty cases and an overall lack of proper funding.
"I predict that if the Legislature doesn't fix that crisis we'll be forced to seek federal intervention, much like we had to do with the prisons."
The commission plans to present its findings to policymakers in early 2017.
Read original article here.
Tags: death row, Gov. Brad Henry, Oklahoma Death Penalty Review Commission