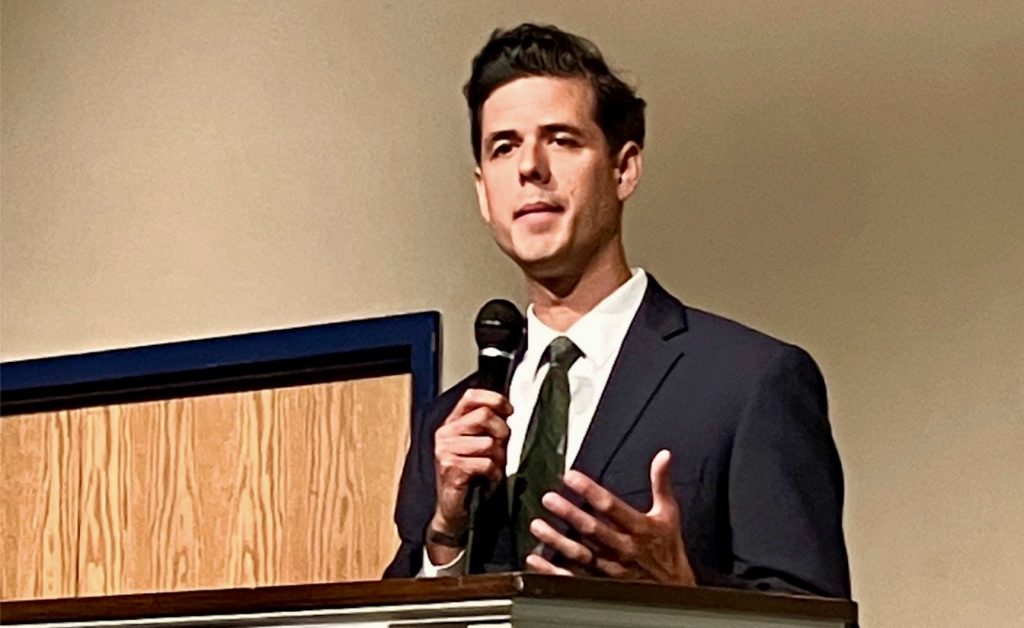 by Patrick B. McGuigan and Darla Shelden – The City Sentinel
OKLAHOMA CITY – Before the Oklahoma Coalition to Abolish the Death Penalty (OK-CADP) honored three women engaged in practical work to end executions – and before the organization held its thirty-first annual meeting – attendees heard from Adam Luck, former chairman of the Oklahoma Pardon and Parole Board.
Luck described growing up, serving in the U.S. military, returning home and eventually encountering, in the criminal justice system, a "difference [between] the values I was raised with and what was actually going on in Oklahoma."
Encouraged by a mutual friend, he met with future Governor Kevin Stitt. The governor, in 2019, appointed Luck to the State Pardon and Parole Board.
Luck described monthly envelopes containing the materials for the regular meetings of the board. He soon learned that thorough preparation the job required dictated that he spends "hours and hours, … days and days getting ready for meetings."
The stories acquainted him with "the brokenness and pain" of those in the system. "It became a Liturgy of my Life over the next three years."
During lunch break on his first day, he got "a call from a District Attorney, on my personal cell phone." Still processing that the person had his personal number, Luck realized the caller "did not like" what he was doing, and "that I should stop." Luck remembered, "I said I'm sorry, but I'm not going to stop."
By his second year, in Luck's recounting, "the District Attorneys" had begun "a concerted effort to remove me and one other member" of the Pardon and Parole Board. He began to receive requests to step aside from consideration of the cases before the Board.
The sought to know what he had said in emails and in texts about "CityCare, God, Jesus." They wanted personal phone records. Luck said he would "not be intimidated." He believes "having one of the nation's largest incarceration rates in the world is not now, nor has it ever been, acceptable."
He pointed with joy to board decisions that resulted in the "largest commutation process in history."
He became the target of one grand jury investigation, then another, and was abandoned by an attorney friend the night before an important legal hearing.
Luck was shocked, but "God knew this was going to happen. … It wasn't a surprise to God. I took a second to reflect … I thought … I knew I needed a person to represent me who wasn't going to care about the consequences."
He contacted a friend who fit that description, a man who stayed up all night to prepare arguments — and won that go-round at the state court.
One attorney general said the pardon and parole board could consider death penalty cases, but the next attorney general said they could not. As one grand jury ended, a county-level grand jury was requested – and approved the same day it was sought.
The board held back-to-back days of clemency hearings. He concluded he saw "issues in every single one of them" and voted accordingly.
Then, he received a call, asking if he could meet with the governor.
When they met, Governor Stitt asked, "Why are you voting for clemency""
Luck says he explained his views, and the governor explained his.
Luck said that he told the governor, "if he wanted me to resign, I would."
The governor told Luck he would get back to him. When he did, Stitt asked Luck to resign.
He sent a letter of resignation, without addressing the death penalty per se.
The governor's staff asked him to include a paragraph about the death penalty, "so I did."
The letter was accepted. Luck attended one more meeting, and then resigned.
There were no formal grand jury indictments, and Luck was "not surprised it ended that way."
Luck said, "the system is not broken, it is operating exactly the way it was intended to operate." He has persistent questions: "These things don't change unless people who don't have to be there are there."
Luck's perspective changed because of "proximity to the system" and the "people who you see there." And, with certainty, this: "Power – how much the people who have power work hard to keep it."
For the future, Luck promises to "speak clearly about the injustices I've seen. My goal is to continue doing this work so long as we have the death penalty."
He concluded his address thanking his wife who had supported him to seek reform, without known in advance what was involved.
At the dinner held June 23, Jasmine Brown-Jutras was named the Phil Wahl Abolitionist of the Year. A founder of the "Not in My Name Coalition," she guided the Capital Punishment Advocacy Day at the state Capitol. She is the Organizing Manager for the ACLU of Oklahoma.
Jamie D. Pybas was deemed the Opio Toure Courageous Advocate. Formerly director of the state's DNA Forensic Testing Program, her work led to the exoneration of Calvin Scott, Arvin McGee and Jeffrey Pierce. Presently she is division chief for the Homicide Direct Appeals Division at the Oklahoma Indigent Defense System (OIDS), where she began working as a law student in 1986.
Rev. T. Sheri Amore Dickerson was named Lifetime Abolitionist at the dinner. She works with the Martin Luther King (MLK) Oklahoma City organization, local PRIDE, the Diversity Center, and the National Association of Black Social Workers. She is the founder and executive director of Black Lives Matter Oklahoma.
Remembering the names of those executed in the U.S. was read by Brooklyn Wood, niece of Oklahoma death row prisoner Tremane Wood. The names of the ten Oklahoma exonerees were read by Paris and Cassidy Powell, daughters of exoneree Paris Powell, and Ms. Kira Booker.
The invocation was given by Rev. David Wheeler of New Covenant Christian Church and the sending forth was said by Sister Diane Koorie, Sisters of Mercy, Archdiocese of Oklahoma City.
Sponsors for this year's events were:  Martha's Giving Circle, Mommy and Mav's Boutique and Family Impire Enterprises, ACLU of Oklahoma, Black Lives Matter Oklahoma, Catholic Conference of Oklahoma and Conservatives Concerned About the Death Penalty, Ed Redlich, Edmond Trinity Christian Church, Emma Rolls, First Unitarian Church of OKC, Julius Jones Coalition, New Covenant Christian Church, Peace House OKC and St Charles Borromeo Catholic Church.
To read the original City Sentinel post, click here.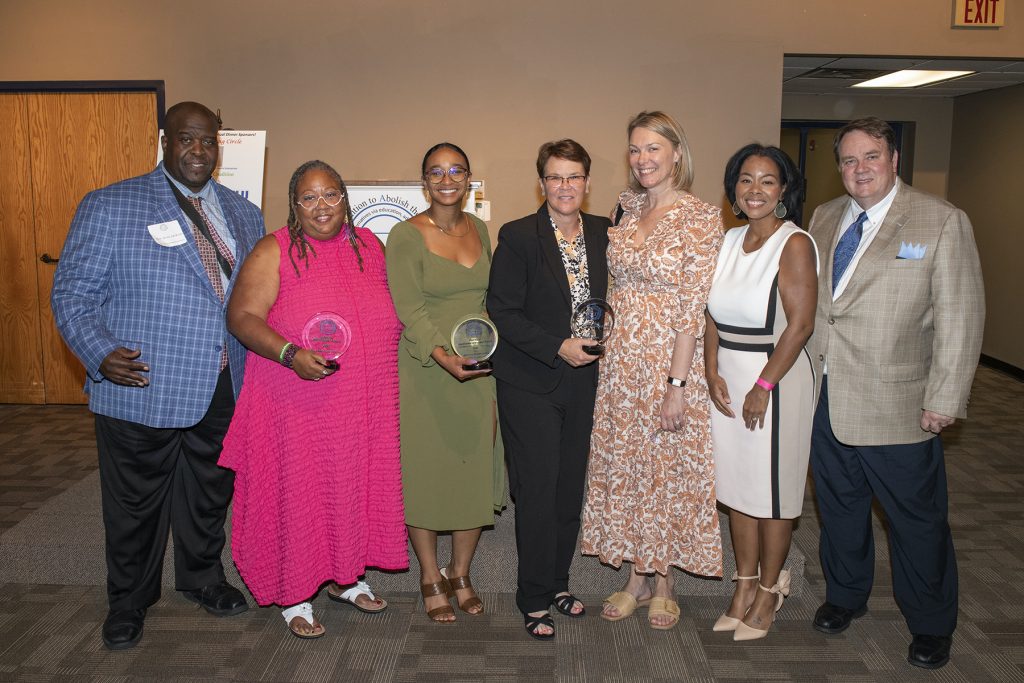 Tags: Adam Luck, Jamie Pybas, Jasmine Brown-Jutrus, OK-CADP Annual Dinner 2023, Rev. David Wheeler, Rev. T Sheri Amore Dickerson, Sister Diane Koorie