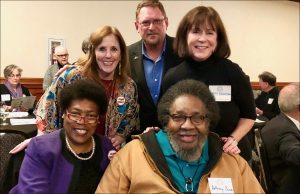 By Darla Shelden
, The City Sentinel
April 26, 2018
OKLAHOMA CITY, OK – Sociology professor and author, Dr. Susan Sharp Crow addressed over 100 attendees during the Oklahoma Coalition to Abolish the Death Penalty's (OK-CADP) 27th Annual Meeting and Awards Dinner on April 21.  Her keynote speech explored the serious concerns about race and the death penalty.
The organization's 2018 primary fundraiser was held at Oklahoma City University and emceed by Rev. Don Heath, OK-CADP chair. Social justice advocate, Rev. Cece Jones Davis delivered the invocation.
Sharp Crow is a David Ross Boyd professor emerita of sociology and L.J. Semrod Presidential professor of sociology at the University of Oklahoma. Her work has focused on the impact of criminal justice policies on families of offenders, women prisoners, and capital punishment.
A former board member of the American Society of Criminology (ASC) and former chair of the Division on Women and Crime of the ASC, she is currently associate editor of the ASC newsletter, The Criminologist. 

Susan served as OK-CADP Chair from 2002- 2004 and was named the group's Phil Wahl Abolitionist of the Year in 2004.
Giving an overview from the slavery era until today, Susan discussed her findings for the Oklahoma Death Penalty Review on Race and the Death Penalty in Oklahoma.
In 2015, Dr. Sharp Crow, Dr. Michael Radelet (Professor of Sociology and Faculty Associate, University of Colorado-Boulder), and Dr. Glenn Pierce (Principal Research Scientist in Northeastern University's School of Criminology and Criminal Justice) collaborated with The Constitution Project on the first ever study of its kind, the Oklahoma Death Penalty Review Commission, to provide data on racial disparities in applying the death penalty in Oklahoma.  

Their research was incorporated into the Commission's final report.
The trio examined all Oklahoma homicide cases (4,668) between January 1, 1990, and December 31, 2012 that resulted in the death penalty. They found that cases with white victims, male or female, and cases with minority female victims are significantly more likely to end with a death sentence in Oklahoma than are cases with nonwhite male victims.
Their research showed that 31 percent of those executed since 1976 were black, even though the state population is approximately 8 percent black, also finding that 45 percent of Oklahoma's current death row is black
.
In April 2015, the Oklahoma Death Penalty Review Commission released its nearly 300-page report and announced more than 45 recommendations to the state's execution protocol. The study concluded that "Oklahoma's death penalty system is not working, and without major changes, Oklahoma risks executing innocent people."
According to Sharp Crow, Oklahoma has the highest per capita execution rate in the modern age of executions and the third highest rate overall, following Texas and Virginia.
"The state is known for botched executions, last execution of a juvenile, and execution of the youngest at the time of the crime," Susan said.
She noted that examinations of the relationship between race and the death penalty have now been conducted in every major death penalty state. In 96 percent, there was a pattern of either race-of-victim or race-of-defendant discrimination, or both.
"Dr. Sharp Crow showed us the statistical documentation to establish racial disparities in imposing the death sentences," said Heath.  "She made it vividly apparent that 'racial disparities' is a euphemism for racism. It has been part of American history from slavery, to lynchings, to today's racial disparities."
Based on the draft of that study, Julius Darius Jones and Tremane Wood, two African Americans on Oklahoma's death row, have argued that the state's death penalty unconstitutionally discriminates on the basis of race.
Sharp Crow provided an update that Julius's case had been reconferenced, or deferred until a later date, in the Supreme Court for the fifth time.  Arizona Assistant Federal Public Defender Amanda Bass, attorney for Julius Jones, noted that the case has since been reconferenced once again.
"Last week we also received word that the Supreme Court reconferenced Julius's case again: that's the sixth time now," Bass said.
Sharp Crow shared what she thought was one of the best quotes regarding capital punishment from a report by the Death Penalty Information Center, "Race is more likely to affect death sentencing than smoking affects the likelihood of dying from heart disease," the center's report said.
Oklahoma has had a moratorium on the death penalty since October 2015 after the wrong drug, (potassium acetate instead of potassium chloride) was nearly used to execute Richard Glossip.
The Oklahoma Department of Corrections later revealed that the wrong drug had also been used in the January 2015 execution of Charles Warner during which he said, "My body is on fire."
The Oklahoma DOC is currently working with Attorney General Mike Hunter's office to develop a new death penalty protocol using nitrogen hypoxia, or inert gas inhalation (IGI).  Until the new protocol is in place, all executions will remain on hold.
Special guests in attendance were Madeline and Anthony Jones, parents of Julius Jones; Nancy Vollertsen, sister of the late Oklahoma death row exoneree Greg Wilhoit; and Linda Toure, wife of the late Opio Toure, a former Oklahoma state representative, attorney, and longtime anti-death penalty advocate.
The names of the ten exonerees from Oklahoma's death row – Charles Ray Giiddens, Clifford Henry Bowen, Richard Neal Jones, Adoph Munson, Greg Wilhoit (deceased), Robert Lee Miller, Jr., Ron Williamson (deceased), Curtis McCarty, Paris Powell, and Yancy Douglas; and the 21 people executed in the United States since the 2017 OK-CADP Annual Meeting last May, were read by Becky VanPool, representing Catholic Charities and Susan Bishop of the First Unitarian Church of Oklahoma City.
Board member Margaret Cox announced the seven at-large board members elected that evening for the 2018-2019 term: Leslie Fitzhugh, Connie Johnson, Rev. Theodis Manning, Dr. Elizabeth Overman, Dr. Gilbert Parks, Jim Rowan and herself.
OK-CADP recognized three members for their outstanding service in support of ending the death penalty.
The Phil Wahl Abolitionist of the Year award went to social justice advocate Anne Murray; the Opio Toure Courageous Advocate award was received by Oklahoma Federal Public Defender Randy Bauman; and the Lifetime Abolitionist award was given to longtime peace activist Tom Gallagher.
A recipient of the Oklahoma Human Rights Award, Anne Murray is a volunteer at the Oklahoma City Peace House; chair of the First Unitarian Church of OKC's Social Justice Committee, a member of Moms Demand Action for Gun Sense in America, and a longtime OK-CADP board member.
"Anne's 40 years of social justice work for these important organizations, and her steadfast advocacy to abolish the death penalty for the coalition, more than qualifies her for the Phil Wahl Abolitionist of the Year Award," said presenter Nathaniel Batchelder, OKC Peace House director.
Prior to joining the Western District Federal Public Defender Office in 1996, Bauman served with the Oklahoma's Death Penalty Resource Center for four years.  Randy works with OK-CADP to facilitate the continuing education of local capital defense attorneys through the Bob Lemon Capital Defense Attorney Scholarship Fund, which he helped to establish. The supervisor of Oklahoma's Capital Habeas Unit, Bauman has worked to defend Oklahoma death row clients for over 25 years.
"During Randy Bauman's many years as head of the federal habeus corpus division, he and his colleagues have been responsible for reversing eighteen death sentences," said Jim Rowan, who presented the award. "That is a remarkable statistic which would not have happened without Randy's hard work and leadership."
Bauman said, "Our unit has gotten relief for death row clients through re-sentencing, some clemencies, even sent some clients to the street. One day the death penalty will be over, but until then you can count on the Capitol Habeus Unit here to do it's very best."
Presenting the Lifetime Abolitionist Award, board member and attorney Rex Friend said, "One of the things Opio Toure did 25 to 30 years ago was to be sure that we recognize the people who are generally nameless, but who do a lot of the work.  Tom Gallagher is one of those people. Working some 50 years in the trenches, Tom is steadfast in his values. Tom reminds us that we should speak up, stand up, show up and sometimes act up."
Over the years, Gallagher has protested the Vietnam war, the Black Fox nuclear plant, and has stood at numerous execution vigils outside the Governor's mansion. His most notable protest was that of the Wanda Jean Allen execution in 2001, during which Tom was arrested and spent time in jail with the Rev. Jesse Jackson.  Tom served as OK-CADP treasurer for 10 years.
"I am honored, but in a way,  I feel a little sad even being offered this award because it's kind of like an athlete being awarded the most valuable player of a team with a losing record," Gallagher said. "We've had way too many losses."
According to Amnesty International, most often "those who end up on death row are not the worst offenders, but those who experienced the worst childhoods, had the worst (or non-existent) mental health care, or are saddled with the worst lawyers."
Event sponsors include First Unitarian Church of Oklahoma City, St. Charles Borromeo Catholic Church, Bob Lemon Memorial Peace House, The City Sentinel, Jim Rowan, Edmond Trinity Christian Church, and Charities of Oklahoma City.
For more information, visit okcadp.org.
To read the original story, visit The City Sentinel.
Tags: death penalty, Julius Jones, race, Susan Sharp Crow, wrongful conviction