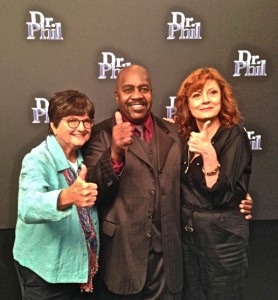 On Monday, August 31, The Dr. Phil Show will host anti death penalty activist Sister Helen Prejean, award winning actress Susan Sarandon, legal team member Don Knight and Illinois exoneree Nathan "Nate" Fields who will advocate for the life of Oklahoma death row inmate Richard Glossip.
Recently receiving a whirlwind of press from Sr. Helen's work and Ms. Sarandon, the Glossip supporters will attempt to lay out the details of his case that they believe will show that Glossip is an innocent man, although he is scheduled to be executed in McAlester on September 16.
Nathson "Nate" Fields, also a guest, will tell how he was acquitted on April 8, 2009, of double homicide for which he spent almost 20 years in prison, including more than 11 years on death row.
Knight said, "Dr Phil gave the telephone number to the Governor's office to his TV audience and told them to call. He's really against the injustice of executing an innocent man."
In Oklahoma City, The Dr. Phil Show can be seen on KWTV, News9 at 3 p.m., Monday through Friday.
For more information about Nathson Fields, visit the Witness for Innocence website.  For more information about Richard Glossip, go to www.sisterhelen.org/richard.
Read the original article – exclusive to The City Sentinel.