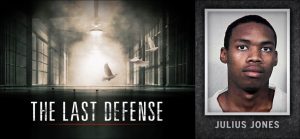 As part of Justice For Julius Awareness Month, a free public screening of the ABC documentary "The Last Defense" will be held at the University of Oklahoma, on Friday, Nov. 30, from 1 – 4 p.m. in the Jeanine Rainbolt Education Building, Collings Hall, Room 250.  Doors open at 12:30 p.m.
Julius was a student at the University of Oklahoma on academic scholarship in 1999 when he was wrongfully convicted of murder and sent to Oklahoma's death row. Julius Jones' story came to national attention last summer through the ABC documentary, "The Last Defense," executive produced by Academy Award winning actress Viola Davis and Julius Tennon.
Join us to find out more about Julius' case at this and other events this month.  For more information, visit JusticeForJulius.com.