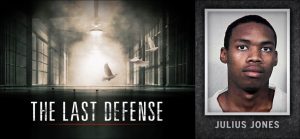 In honor of Black History Month, the Oklahoma Coalition to Abolish the Death Penalty will partner with Cece Jones-Davis of Sing For Change to host a free screening of the ABC documentary "The Last Defense" at Tabernacle Baptist Church, 1829 NE 36th Street, on Saturday, Feb. 16 in Oklahoma City.
The event, from 6 – 9 p.m., will feature 3 segments of the 7 part doc-series, examining the case of Julius Darius Jones on Oklahoma's death row followed by a panel discussion and Q&A session.
Panelists are Rev. Larry Crudup, pastor of Tabernacle Baptist Church; Rex Friend, attorney and OK-CADP board member; and Cece Jones-Davis.
For more information about Julius' case, visit www.JusticeForJulius.com. Please join us.