By Quinton Chandler, State Impact, April 8, 2020
There's a possibility state supplies of sedatives, paralytics and other drugs could be useful in the fight against the Covid-19 pandemic.
A group of doctors and pharmacists from around the country wrote a letter asking death penalty states to share drugs like midazolam, vecuronium bromide and fentanyl with hospitals treating Covid-19 patients.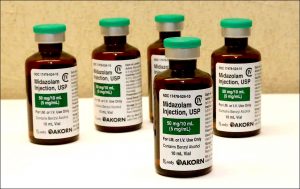 Demand for the drugs has ballooned due to the pandemic and hospitals are facing a shortage.
The doctors say over 100 patients could be treated with drugs held by states that make their lethal injection stockpiles public. They believe hundreds more could be treated with drugs held by other states, but that's hard to prove. Many states hide how many vials of the drugs they have along with other details surrounding executions.
States use a variety of drugs in their lethal injection protocols. Many, including Oklahoma, have adopted sedatives such as midazolam to subdue death row prisoners during executions. Oklahoma also uses vecuronium bromide, to relax prisoners' muscles.
But, those drugs originally were intended to serve medical purposes. Doctors say the drugs can help sedate Covid-19 patients before they're intubated and connected to ventilators.
Dr. Joel Zivot, Associate Professor of Anesthesiology and Surgery at Emory University in Atlanta is an outspoken critic of using drugs created for medical procedures in executions.
He helped write the letter and confirmed the Oklahoma Department of Corrections director and Gov. Kevin Stitt were sent copies.
"If states have execution drugs, or rather drugs … that in my hand are for the purposes of healing and in their hand are for the purposes of killing … I respectfully ask that you hand them over," Zivot said.
Read the full State Impact article.