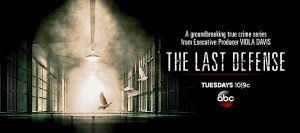 By Patrick B. McGuigan and Darla Shelden
The City Sentinel Newspaper, Friday, July 6, 2018
OKLAHOMA CITY, OK – The ABC documentary series, "The Last Defense," executive produced by Academy award winning actress Viola Davis, will air the three final episodes beginning Tuesday, July 10 at 9 p.m. Central Standard Time (CST). These episodes, directed by Amani Martin and produced by Gemma Jordan, focus on Oklahoma death row inmate Julius Jones.
The program premiered on ABC in June with an in-depth look at the case of Darlie Routier on Texas' death row.
WATCH: The Last Defense – Julius Jones episodes online.
Co-executive producers Davis and her husband Julius Tennon founded JuVee Productions in order to "give a voice to the voiceless through strong, impactful and culturally relevant narratives." The couple have partnered with XCON Productions and Lincoln Square Productions for this project.
According to Davis, the seven-part docu-series spotlights serious flaws in the American justice system – and in particular the high rate of exonerated death row inmates.
The National Coalition to Abolish the Death Penalty states that since 1973, 162 individuals have been exonerated from death row in the U.S. Ten of those are from Oklahoma.
Airing Tuesday, July 10, "JULIUS JONES: The Crime" examines how in 1999, Jones, an African American 19-year-old former high school basketball state champion and star football player, was arrested days after a businessman was shot to death in Edmond, Oklahoma. At the time of the murder, Julius was a student at the University of Oklahoma on a partial academic scholarship, hoping to make the basketball team.
Nineteen years later, this episode will feature Tommy Griffin, father of NBA superstar Blake Griffin, who coached Julius; along with interviews from Julius on death row who tells his version of events as federal public defenders Dale Baich and Amanda Bass retrace the steps that led to what they claim is a miscarriage of justice.
Vanessa Potkin of Lincoln Square Productions and attorney at the Innocence Project said, "We know through the exonerations cases that many types of evidence that are used in courts today to send people to death row, are unreliable.'
"When you're facing an execution, and that execution is carried out, and we later find out that you're innocent… there's no undoing that wrongful conviction," Potkin added.
The world premiere of The Last Defense was held at the 2018 Tribeca Film Festival in New York City on April 27. The screening was followed by a panel discussion with executive producers Davis, Tennon, Christine Connor of XCON Productions, and Jones' attorney Dale Baich.
"Participating on the panel was an opportunity to continue to talk about Julius and his wrongful conviction," Baich said. "The first hour of the Julius Jones story in the docu-series takes a look at Julius's background, the crime, and how Julius became a suspect and how he was taken into custody."
In Jones' case, his current attorneys believe that race and the juror's pre-conceived notions of him, were leading factors in the result of his trial.
"On April 25, 2017, the Oklahoma Death Penalty Review Commission issued a report that detailed the numerous systemic flaws within Oklahoma's system of capital punishment,"  Amanda Bass, assistant federal public defender working on the Jones legal team, said in a statement sent to The City Sentinel:
"Appended to the report was a novel study about racially disparate capital sentencing outcomes in Oklahoma. This new study demonstrates the troubling fact that Julius was among those who, between 1990 and 2012, were statistically more likely to be sentenced to death in Oklahoma based on the race of their alleged victim alone," said Bass. "In this way, Julius's death sentence is unlawful under the Oklahoma and federal constitutions."
As reported by The City Sentinel, the referenced new study (now published in the Journal of Criminal Law and Criminology – "Race and Death Sentencing for Oklahoma Homicides Committed Between 1990 and 2012") – documents patterns and practices in state death penalty cases that violate federal judicial precedents, specifically binding on lower courts, regarding constitutionally impermissible impact on black defendants.
Authors of the study are Michael L. Radelet (University of Colorado-Boulder), Susan Sharp (University of Oklahoma), and Glenn Pierce (Northeastern University).
Based on this report, Jones asked the Oklahoma Court of Criminal Appeals (OCCA) on September 22, 2017 to consider whether or not his death sentence violated his rights under the Oklahoma and federal constitutions. However, that appeal was denied.
"The Oklahoma Court of Criminal Appeals refused his request on the basis of a procedural technicality–yet another example of how that court puts form over substance even in cases where a human life hangs in the balance," Bass said. "Mr. Jones is now asking the U.S. Supreme Court to review that decision and to direct the OCCA to give his constitutional claims full and fair consideration before sanctioning his execution."
In a supplement to a September 22, 2017 filing for Jones, one author of the study emphasized the information is both new (previously unavailable) and relevant to the Jones case. These points have been made anew in the writ of certiorari filing at the U.S. Supreme Court.
According to Baich, after rescheduling the Jones case for consideration fourteen times, the Supreme Court has carried it over for decision until the fall, at or around the time of the start of a new Supreme Court term.
"The second and third hours will explore police and prosecutorial misconduct in the case, racism in the criminal justice system, as well as during Julius's criminal proceedings, and raises serious questions about whether Julius was wrongfully convicted," Baich added.
In "JULIUS JONES: The Trial" (airdate: July 17) the State calls a witness, Christopher Jordan, who testifies he was there when Julius pulled the trigger. Julius and his family watched as his defense takes this last opportunity to save him, but there are missed opportunities to hear Julius' side of the story, and a critical piece of evidence is never shown to the jury.
As the clock is ticking for Julius, two witnesses have come forward in his favor since the conviction, and he now holds out hope thanks to his current lawyers.
Davis said 'The Last Defense' hopes to shine a light on these case discrepancies for viewers and potential jurors.

"It's not a new light. It's just a light," said Davis. "A light where things have always been eschewed, it's just when we choose to see it."
Executive producer Aida Leisenring of Lincoln Square Productions said, "The more we're able to educate them about the DNA evidence and about informant testimony and how it has its flaws, the more their ears will perk up when they're listening to those kinds of witnesses. And so, we hope to help on a mass level, as opposed to one person at a time."
In the final episode (July 24), "JULIUS JONES: The Fight" will show that as Jones presently waits on death row at the top of the state of Oklahoma's list of impending executions, his attorneys Bass and Baich are in a race to win a new trial as new evidence comes to light.
"After learning about Julius Jones' story on 'The Last Defense' and hearing directly from him, we are confident that when viewers see the final episode of his case, they will be shocked by the new information we have uncovered; information that his lawyers believe could ultimately compel the courts to revisit his case," said Executive Producer Gemma Jordan.
To read the entire article, visit The City Sentinel online.
WATCH: The Last Defense – Julius Jones episodes online.
Tags: ABC Televison, death penalty, Julius Jones, The Last Defense, Viola Davis, wrongful conviction