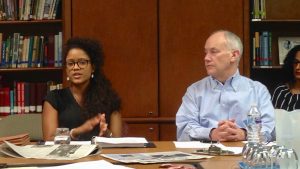 By Patrick B. McGuigan
The City Sentinel Sept. 24, 2017
OKLAHOMA CITY – A team of attorneys say the Oklahoma Court of Criminal Appeals should revisit a decision denying death row inmate Julius Darius Jones new judicial proceedings. In light of previously unavailable evidence – not available during his trial (two decades ago) in an Edmond murder case and in subsequent appeals – the interest of justice, should allow fresh consideration of the conviction and death penalty, they argue.
Jones was convicted for the 1999 murder of Paul Scott Howell, an Edmond insurance executive. Jones has consistently maintained his innocence. Prosecutors secured a guilty verdict in a case where his inexperienced, court appointed defense team did not adequately cross examine state witnesses or present evidence on his behalf.
Recently, the state appeals court relied on the very recent precedent, writing that a decision this year (Sanchez v. State) precluded further appeals.
However, Oklahoma attorney Evan King (working with Dale Baich and Amanda Bass, federal public defenders from Arizona) wrote in a petition filed on Friday, September 22 "this Court has overlooked issues dispositive of the matter before it. See Rule 3.14(B)(1), Rules of the Oklahoma Court of Criminal Appeals, Title 22, Ch. 18, App. (2016). Specifically, this Court failed to examine how Julius's Application differed from the successive application filed in Sanchez on its factual basis, argument, and in its procedural posture."
The referenced new evidence reaches the public square through a forthcoming study in the Journal of Criminal Law and Criminology. That report, "Race and Death Sentencing for Oklahoma Homicides Committed Between 1990 and 2012," documents patterns and practices in state death penalty cases that violate federal judicial precedents – binding on lower courts – regarding constitutionally impermissible impact on African-American defendants.
In a supplement to King's September 22 filing for Jones, one author of the study emphasizes the information is both new (previously unavailable) and relevant to the Jones case.
Authors of the new study are Michael L. Radelet (University of Colorado-Boulder), Susan Sharp (University of Oklahoma), and Glenn Pierce (Northeastern University).
An earlier draft of the study from the trio of scholars was included as Appendix 1A in the historic Report of the Oklahoma Death Penalty Review Commission, prepared in March 2017 and released in April of this year.
In the recent ruling to deny Jones' request for fresh proceedings to examine evidence compiled by the attorneys, the Court of Criminal appeals contended, "Petitioner has not shown sufficient specific facts to establish that the identified patterns of race and gender disparity were 'not ascertainable through the exercise of reasonable diligence on or before' his original post conviction application in 2009."
But any informed observer can ask: How could Jones have presented timely evidence in the matter when such evidence did not exist in 2005, at the time of his original search for post-conviction relief?
Jones attorneys argue, in their new brief (filed by King in cooperation with Baich and Bass), "This Court's order denying Julius's Application included erroneous factual conclusions regarding the availability of the data underlying the Study. (See infra at 8-12.) Those conclusions could not be reached without more. Had the Court allowed factual development, as requested by Julius, the Court's concerns would have been addressed based on evidence rather than on speculation."
Baich and Bass have visited Oklahoma City numerous times to interview persons with involvement in the Jones case, seeking new insights, information and background.
On September 5, they met with members of the Oklahoma Coalition to Abolish the Death Penalty (OK-CADP).
In a wide-ranging discussion of the case at that meeting, the two attorneys touched on the work of the Oklahoma Death Penalty Review Commission, a bipartisan group that made dozens of recommendations that would prevent further executions until significant changes are made in the state's legal process for capital crimes.
In response to a question from The City Sentinel, Baich characterized as historic the review commission's proposal to revise state law to allow, when a human life is at stake, introduction of new information for judicial review. This would assure, he reflected, that the legal value of "finality" in proceedings (an objective worthy of due respect, in this reporter's considered opinion) would not undermine the legal system's core value of justice.
NOTE: McGuigan, the co-editor of 'Crime and Punishment in Modern America' (1986) is the author of hundreds of news stories and commentaries on criminal justice issues.
Read the original City Sentinel article.
UPDATE:
The first two of three episodes of the ABC documentary "The Last Defense" focusing on Julius Jones' case – are now online.
Watch: "The Last Defense Season – Julius Jones: The Crime" online

University of Oklahoma student Julius Jones is arrested for the shooting death of a businessman.
Watch: "The Last Defense – Julius Jones: The Trial" online
The prosecution's star witness testifies he was there when Julius pulled the trigger; a critical piece of evidence is never seen by the jury; Julius' current lawyers give him hope
Tags: Amanda Bass, Dale Baich, death penalty, Julius Jones, Oklahoma Coalition to Abolish the Death Penalty, wrongful conviction